Print this page
TDP heat lamp therapy IR-CQ-29 229 €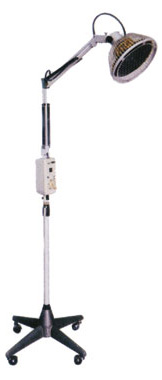 This is a new type of device for therapeutic and health maintenance. It generates a thermomagnetic wave that penetrates the treatment area. The patient feels comfortable and relaxed. This device has significant therapeutic effects, immediate and offers a wide range of treatments. It helps to stimulate metabolism, regulate the nervous system, improve circulation and relieve pain. This model comes with a timer for 60 minutes. The device will automatically mute when the time elapsed.
This device has an arm to reach areas easier to treat.
It comes with timer (0-60min). Power supply 220V, 50Hz/60Hz.
Lifetime of radiation plate: 1000 hours
Spectrum range: 2 to 21 micrometers.
---
Spare parts

Plate resistance
for IR-CQ-27
or IR-CQ-29
39 €
Heating plate
for IR-CQ-27
49 €
Heating plate
for IR-CQ-29
49 €