Imprimer cette page
Mini Laser Pointer
For acupuncture and auriculotherapy 59,00 €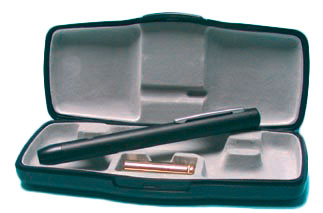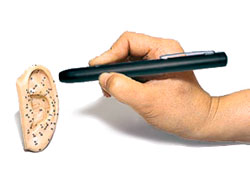 It is the one of the best portable infrared laser available in the market. Its substitute the use of the needle and performs the same effect which other Laser does, and makes efficient acupuncture treatment possible without the use of needles. Besides, in addition to the continuous mode, the pulsed mode adds the effectiveness of therapy to certain disease. With the use of the laser, acupuncture becomes a painless process and readily acceptable to the youth and the elderly.
Laser beams in this range pass through water and haemoglobin, and penetrate deep into the body without destroying the tissues. The visibility of laser beam enables the user to make sure its application to the treatment point, as well as add confidence to the patient. At present, using infra-red diode is by now the most economical, and smallest way to produce a visible laser.

MAIN CHARACTERISTICS:
Length of central wave: 670 nm
Maximum intensity: 1 mw
One frequency:continuous
Runs with 2 batteries of 1,5 V
Weight: 50 gr.
ADVANTAGES:
Painless
Harmless
No-cross infection
No heat
No adverse effect
Simple in operation
APPLICATION
Auriculotherapy
Acupuncture
Sport medicine
Physiotherapy
Analgesic therapy