Print this page
Acupuncture detector with stimulation Pointer Plus portable apparatus
119,00 € 99,00 €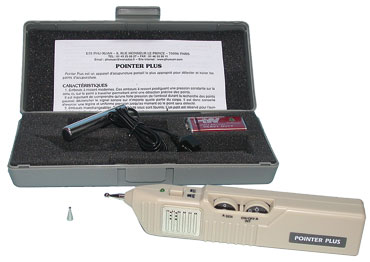 It is an accurate and easy to operate hand held acupuncture and trigger point locator which incorporates an effective push button stimulation feature which may be used for the immediate treatment of the point or area right after its detection
It has the similar function of a T.E.N.S unit, which stimulates nerves electrically by transmitting current through the skin to relieve some types of pain such as chronic, acute and post-operative pain.
An ideal tool for home usage. Operated by 9V battery.
SPECIFICATIONS:
Sizes: 170x33x23mm
Output intensity: 0~22mAr.m.s
Frequency of output: 10 Hz
Weight: 60gm and 230gm (complete set)
Pulse width: 220 µ sec.
Waveform: continuous
Wave shape: biphasic square pulse with negative spike
Power supply: 9V battery
Accessories: 2 detection probes, 1 spare grounding pole, 1 hard carrying case, 1 instruction manual,
1 9V battery.