Print this page
Moxa herbal incense 9,50 € pack of 10
For therapist price, please consult the professional pricelist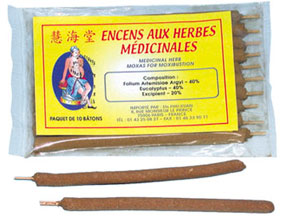 Composition: Folium Artemisiae Argyi 40%, Eucalyptus 40%, base 20%. You wish to relieve all your muscular pains linked to stress and nervous tension, as well as your joint pains and rheumatism, in an atmosphere perfumed with eucalyptus to soothe the spirit and disinfect the respiratory system. You can now use this wormwood and eucalyptus incense for its therapeutic properties. Sold in packs of 10 sticks, each 15cm long and 1 cm in diameter.