Print this page
Moxa – perfumed moxa rolls. 10,90 € box of 10
For therapist price, please consult the professional pricelist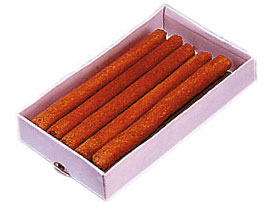 They are moxa sticks 13 cm long and 1.2 cm in diameter. They are intended for the treatment of moxibustion. They are made from compression and the combination of Musk, grass Artemisiae of folium Artemisiae and produce combustion a very pleasant fragrance. Package of 10 sticks.

---

Aluminum tube 9,90 €
Small model to carry the moxa stick without risking breakage. It can be used as an extinghisher. Dimensions: 2,5 x 23 cm.