Print this page
Chart in french language "Massage réflexe auriculaire" 18,00 €
Laminated and coloured chart. Sizes: 60 cm x 80 cm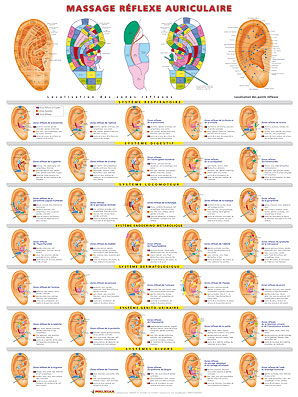 Massage réflexe auriculaire in french language chart is a directory of the main symptoms that can be relieved by carrying out a massage of the ear's reflex areas.It boasts remarkable visibility: indeed, each symptom is presented in a box under which can be found the reflex areas for treatment, graded with colour markers.
In other words, you can pinpoint associated symptoms and areas to treat in a single glance.
However, not only does this chart gives us this information very rapidly, but it is also an efficient tool for memorising the map of the ear and its therapeutic areas. Hung on a wall for daily consultation, this laminated colouring chart will offer a natural and effortless method of memorising the information.
Laminated colouring chart in sizes 60 x 80 cm.