Print this page
Magnetic dorsal/lumbar belt support
With 24 magnets of 1 000 Gauss 42 €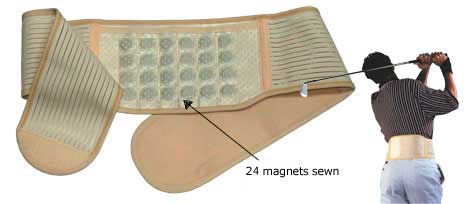 Relieves back pain.
Improves circulation.
Supports back.
The high incidence of upper and lower back pain has led to a search for a simple, effective means of preventing or relieving this form of pain.
The DORSAL/LUMBAR BELT SUPPORT is made in a comfortable stretch material that adjusts to all waist sizes and is composed of 24 magnets each with strength of 1,000 gauss. It uses the beneficial effects of magnetism to combat these types of pain. This belt provides a straightforward method of relieving and soothing upper and lower back pain, as well as significant support for the body, avoiding vertebral depression.
USE : The dorsal/lumbar belt can be worn for approximately one week, followed by a stop of a few days before resumption of wear.
The belt must be worn in such a way that the magnets on the internal face of the belt are in contact with the lower back. This stretch magnetic belt has a Velcro-type closure.
Characteristics: - Colour: beige - Velcro closure - Dimensions: two sizes: XL: 117 x 16 cm and XXL: 133 x 16 cm - Comprises 24 x 1,000 gauss magnets.
Precautions: The wearing of this belt is contraindicated for pregnant women and wearers of pacemakers and metal prostheses.