Print this page
Magnetic shoulder and upper back pad 48 €
With 43 magnets of 1000 Gauss.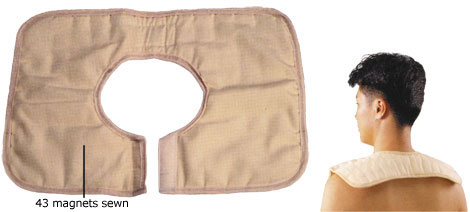 Pain in the shoulders, the nape of the neck and the upper back can be relieved by using this magnetic, pain-relieving pad for the shoulders and upper back. It moulds perfectly to body contours, offering users the benefit of its 43 magnets, each with a strength of 1,000 gauss. These magnets, distributed uniformly over the front and back of the pad, combat painful contractions in the shoulders, neck and upper back, stimulate blood circulation, relieve tense muscles and soothe pain.
Characteristics: Colour: beige – Velcro closure – Dimensions 42 x 31 cm – 43 magnets each with a strength of 1,000 gauss.
Precautions: The wearing of the magnetic shoulder and upper back pad is contraindicated for pregnant women and wearers of pacemakers and metal prostheses.